U11 Rugby v The Elms 15/09/21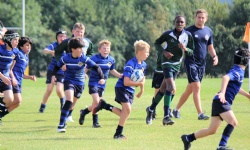 U11 A
A very good friendly training fixture against The Elms where for the first two 3rds it was a heavily contested(!) training match to get both teams used to playing rugby again. The final third was the contest and despite scores not being recorded there was some fantastic rugby played. The boys defended heroically and became more clinical with the ball as the game went on.
It was the PERFECT fixture to start off the rugby term - onwards and upwards!
MVP: Noah Byrd for his confident and effective attacking. Adam Ibrahim (and others!) for being relentless in defence!
U11B
A thoroughly enjoyable fixture that was evenly contested over three periods. Utilising a lot of width, LGJS passed the ball superbly to hand and kept the ball flowing away from contact. The Elms had a few pupils who managed to break our line quickly and run over tries. A promising start for this B team as they grow in confidence and hopefully take this strong performance into the Stamford festival next week!
MVP: Zayd was a powerful runner scoring a good few tries, & Ruben was strong in defence bringing the attacker to ground each time